On July 3, 2020, ROSCAN completed its acquisition of all the issued and outstanding shares of Komet Mali SARL from Komet Resources Inc. Following the acquisition, Komet Mali became a wholly owned subsidiary of Roscan Mali SARL, a wholly owned subsidiary of ROSCAN

Komet Mali owns the Dabia South Project, located in Dabia Sud, Mali, which adds 35km2 of gold-bearing and highly prospective exploration ground, strategically located between ROSCAN's Kandiole Project and Oklo's Dandoko Project

The Dabia Sud exploration permit is located in the Kayes Region and the district of Kenieba in the western part of Mali, adjoining to Roscan property.
Main Areas of Focus
Dabia Sud consists of 3 key exploration targets as shown below:
1. Kabaya Project
The Kabaya deposit has an "historical estimate" (see Press Releases dated May 11 and June 17, 2020) that is pit-constrained with 105,000 ounces of Indicated Resource and 35,000 ounces of Inferred Resource which has been drilled to an average depth of 80m, and the deposit remains open at depth.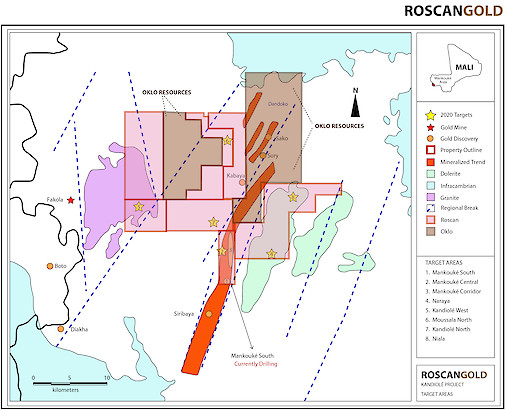 Location Map of Dabia Sud Property with Roscan and Oklo Resources
The Kabaya historical estimate is based on optimized pit shells using a gold price of US$1,350 and a presumed heap leach gold recovery of saprolite material.
| | | | |
| --- | --- | --- | --- |
| Classification | Tonnage (Mt) | Au (g/t) | Ounces (koz) |
| Indicated | 3.17 | 1.03 | 105 |
| Inferred | 0.96 | 1.14 | 35 |
Pit Constraint Historical Estimate (Source Komet's NI43-101)
2. Walia and Disse Targets
In the period 1997-2000, Ashanti Mali SA performed permit scale soil geochemistry surveys. In 2007, Robex repeated the permit scale soil sampling program and identified the Kabaya, Disse and Walia gold zones.
In 2007, Robex completed 5 trenches on the Walia gold target which are located on the northern portion of the property. The 5 trenches accounts for 777 meters of sampling. Based on the geochemistry it is noted that some of the greater than 250ppb gold results would warrant follow-up.