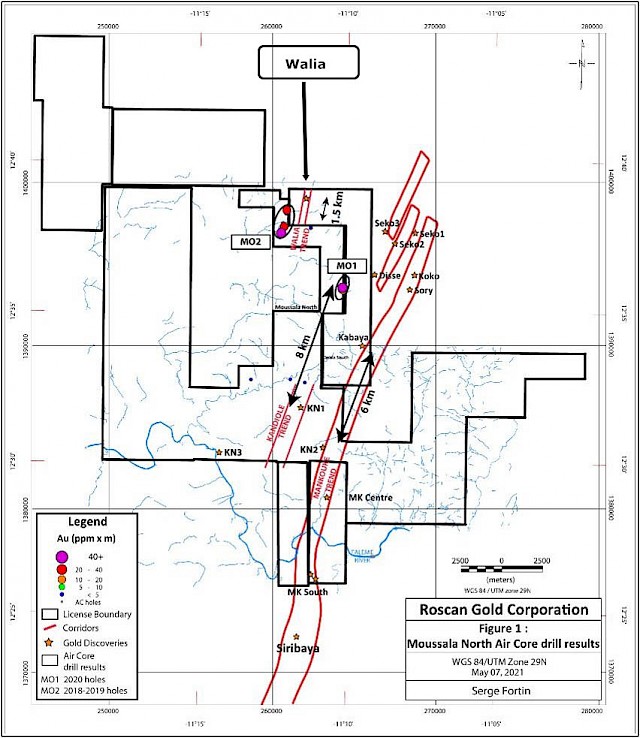 On July 3, 2020, ROSCAN completed its acquisition of all the issued and outstanding shares of Komet Mali SARL from Komet Resources Inc. Following the acquisition, Komet Mali became a wholly owned subsidiary of Roscan Mali SARL, a wholly owned subsidiary of ROSCAN

Komet Mali owns the Dabia South Project, located in Dabia Sud, Mali, which adds 35km2 of gold-bearing and highly prospective exploration ground, strategically located between ROSCAN's Kandiole Project and Oklo's Dandoko Project

The Dabia Sud exploration permit is located in the Kayes Region and the district of Kenieba in the western part of Mali, adjoining to Roscan property.

Walia and Disse Targets
In the period 1997-2000, Ashanti Mali SA performed permit scale soil geochemistry surveys. In 2007, Robex repeated the permit scale soil sampling program and identified the Kabaya, Disse and Walia gold zones.
In 2007, Robex completed 5 trenches on the Walia gold target which are located on the northern portion of the property. The 5 trenches accounts for 777 meters of sampling. Based on the geochemistry it is noted that some of the greater than 250ppb gold results would warrant follow-up.

Drilling Highlights

Air Core Drilling Highlights – Walia:
• 21.4 gpt gold over 8m from drill hole ACDBS20-395 from 26m
o Including 77.8 gpt gold over 2m from 30m
• 11.4 gpt gold over 2m from drill hole ACDBS20-228 from 0m
• 7.96 gpt gold over 2m from drill hole ACDBS20-144 from 2m
• 4.05 gpt gold over 4m from drill hole ACDBS20-221 from 34m
• 3.59 gpt gold over 4m from drill hole ACDBS20-418 from 30m

Greg P. Isenor, P.Geo., Independent Director, is the Company's Qualified Person
and has reviewed and approved the technical disclosure on this website